I love the power of voice and the magic of audio. Any great visual piece needs solid audio. I've dedicated my life's work to sound. I've been able to earn a living doing what I love.
Most of my career has been spent working in radio. I've entertained Silicon Valley doing a Morning Show at Mix 106.5 and became an influencer in my community, I've created a podcast 'Festival Nation' which combines my love of storytelling, interviewing and my love of the magical world of music festivals and I recently started a webcast called 'Marla's Vinyl Party & Quiz Show' which features my love of music and good old fashioned contesting.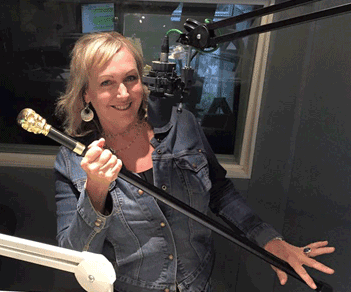 I currently work at KQED as a Live On-Air Announcer and Technical Operator and over the years I've been Live On-Air at Mix 106.5, KPIG-FM. KOME-FM, KXFX-FM, KPFK-FM and KPFA-FM.
'Festival Nation' Podcast - Aircheck 2020
'Festival Nation' Podcast Promo - Host Marla Davies Celebrates The Magical World of Music Festivals. Host Marla Davies interviews musicians, music industry people and influencers about their love of music festivals, the future of music festivals and yearning to gather together and celebrate live music. Check out a sample of 'Festival Nation' and to hear all the episodes at https://www.festivalnationpodcast.com/
Marla Davies Commercial Voice Over Demo
I am a true lover of the power of audio and the ability that voice has to convince and communicate to an audience.  I've been the voice and spokesperson from national clients including Apple, Whole Foods and Mattress Firm to local clients Action Day Primary Plus Schools and NOVA IVF.   I'm a  commercial voice actor and here is a sample of my work.  I hope we can make some commercial magic together soon.
The Pope and Marla Morning Show - Mix 106.5 - Aircheck
For two decades - that's a long time, especially in radio - I hosted an amazing, entertaining, and fun morning show at Mix 106.5, working with both Bill Kelly of Kelly and Kline and Jeff Pope.   The coolest thing about being in one city for such a long time is I really got to know people, and them me! We became, as I like to say, a dysfunctional radio family. A lot of parents and kids listened to the show together, so I got the multi-generational listener, which is super cool.  The best job in the world is knowing you really made a difference and I absolutely know I did - doing a show everyday at Mix 106.5.
Marla Davies Aircheck KPIG-FM 2019
I have the great joy of working at KPIG-FM. It's a real throwback radio station and it reminds me of my early days in radio working at powerhouse San Jose rock station KOME-FM. It's a dream to chose my own songs and let them flow together.  It's such fun to really craft a music show. Working at The Pig is worth the often treacherous drive over Highway 17 just to be on-the-air and -- don't tell them this -- it's so fun I'd probably work for free.
Marla Davies - Willow Glen School of Music Voice Over
I'm also a Bay Area voice-over actor and spokesperson. You've heard her voice on national and local commercials including Apple, Whole Foods, Comcast, Pandora Jewelry, and Mattress Firm along with successful local endorsement campaigns with NOVA-IVF and Action Day Primary Plus.