Radio people love to say 'we have a face for radio', but sometimes we have to step in front of the camera. The thing I love about radio is that we don't have to look beautiful or wear makeup but with the advent of Social Media, Instagram videos and You Tube, more and more radio people have to get our faces out there. I don't mind cleaning up, it just take a little longer to get ready.  Check out my audio page.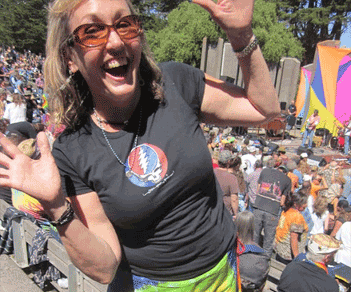 Woodstock Nation Movie Trailer
'Woodstock Nation' is an upcoming documentary about the Revolution, Evolution and Life Changing Magic of Music Festivals from Woodstock to Today'. 'Woodstock Nation' is currently in post production and soon to be released theatrically and episodically.
'Dishing It With Marla Davies'
'Dishing It With Marla Davies' is a pilot Webcast. It is a Rock 'n Roll Show about Food, The Musicians You Love and The Recipes They've Shared That Bring Us Together Around The Table.
The Pope and Marla Morning Show - Mix 106.5 - Commercial
The Pope and Marla show had an amazing 4-year run at Mix 106.5. Each day, the morning team created nonsense and had Silicon Valley laughing. This commercial captures the magic and silliness of the show and features the music that morning commuters sang along to everyday.
Woodstock Nation - Documentary Teaser
I joined the 'Woodstock Nation' team as producer in 2017.   It's always been a dream to work on a documentary, and when this opportunity presented itself, I couldn't resist.  It combines my love of music, my love of storytelling, my love of festivals, and an era that I also love.  'Woodstock Nation – 50 Years of Music Festivals from Woodstock to Today' will be released in 2019. I'm also contributing on set as a sound recordist, social media strategist and host of the Woodstock Nation podcast.
The Pope and Marla - Ice Bucket Challenge
Doing a morning show is always filled with fun and games. Beside doing a show everyday, Pope and I also did a slew of events in the community; from broadcasting live from Art & Wine Festivals to emceeing at various community events (fashion shows, parades, charity auctions, and fundraisers) to getting ice dumped on our heads for ALS. Nothing feels better than giving back to the community that I live in.